Getting products now...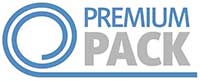 PREMIUMmax - The toughest bone protection shrink bag.
PREMIUMmax from PREMIUMpack represents a leap forward in the development of bone protection.
This revolutionary material is strong, economical, time efficient and flexible. It has excellent puncture resistance, which reduces leakers and ultimately saves time and money.
The single seal pouch means you can eliminate bone guard and improve your products visual appeal. It comes in a wide range of formats and can be printed in up to 10 colours. It is suitable for cooking too, for up to 8 hours at 90°C.